Optimal Health Lifestyle Intervention/Cooking Class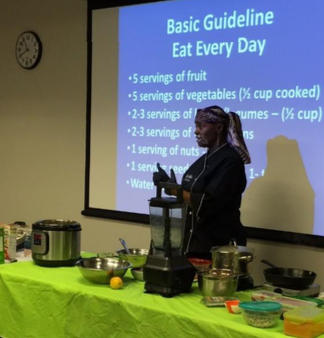 The Optimal Health Cooking Class will resume virtually on January 12, 2021 from 6:30 p.m. to 8:30 p.m. eastern time.
More than a Cooking class! This program will empower you with the skills and knowledge to make healthy sustainable lifestyle changes.
Delicious oil-free plant-based food
Fitness assessments
Stress management techniques
And much more...
Location
Morehouse School of Medicine
720 Westview Drive
Atlanta, GA 30310 (Building F, Room G-14)
Contacts
Parking
Free! Please sign in at the Public Safety Office near the Lee Street parking lot when you arrive.
Cost
There's no cost to attend the live weekly classes. For additional resources, a subscription fee is charged.
Resources include access to:
Recorded sessions
Recipes
And much more…
Subscriptions
$5 session subscription fee
$60 yearly subscription fee (3 sessions: Winter, Spring/Summer, Fall)
---
12-Week Class Schedule, Winter 2022
1/12/2022 - Week 1
1/19/2022 - Week 2
1/26/2022 - Week 3
2/2/2022 - Week 4
2/9/2022 - Week 5
2/16/2022 - Week 6
2/23/2022 - Week 7
3/2/2022 - Week 8
3/9/2022 - Week 9
3/16/2022 - Week 10
3/23/2022 - Week 11
3/30/2022 - Week 12
General Rules
There are many ways to get started on a plant-based diet. You can do it gradually, meal by meal or just jump in and eat only plant-based foods. Either way you will need some new rules.
Start eating meals– this means that you must stop eating whenever and whatever you see feel like eating. Decide on an eating plan that fits your lifestyle and get into a routine. Think of snacks as a small meal and either stop eating them or plan for them.
You can eat:
3 meals/day - Breakfast/lunch/dinner - No snacks
4 meals/day - Breakfast/lunch /dinner - 1 snack of fruit
5 meals/day – Breakfast/lunch/dinner – 2 snacks – mid-morning/mid afternoon
Stop eating 3 hours before you plan to go to sleep
Do not eat for at least 12 hours between dinner and breakfast
If possible, have your heaviest meal at lunch time and eat a light dinner
Shopping for a whole-food plant-based diet—This is a great video – only one issue, oats are OK, but the best breakfast is fresh fruit in season.
Resources
Books, Websites & Other References
Course Charts & Reference Guides
No Calcium Supplements