Sanjay Jain, M.B., M.S., M.D., Ph.D.
Specializes in Hematology/ Oncology, Internal Medicine
Dr. Sanjay Jain is amongst the new faculty members to join Morehouse School of Medicine as an Associate Professor in the Department of Internal Medicine. Dr. Jain is a Medical Oncologist and has approximately 14 years of clinical experience. He will address the issues and concerns of patients at the Grady Cancer Center. Dr. Jain is especially interested in the provision of clinical services to patients which is unquestionably, and unconditionally par excellence. He's a firm believer that patient satisfaction should be a key measure of success and patient outcomes should be superior to national and international benchmarks.
Dr. Jain was born in Kota, Rajasthan, India. He received his M.B., B.S. (Medicine and Surgery, from the University of Rajasthan, Jaipur, India and was recognized as the best Intern at Maharao Bhim Singh Hospital. He obtained both his M.S. Degree, and his PH.D., both in Immunology, from Kent State University in Kent, OH. Dr. Jain's residency training in the United States took place at Miriam Hospital, Brown University in Providence, RI and he also did a Fellowship in Hematology/Oncology at Beth Israel Deaconess Medical Center, Harvard Medical School in Boston, MA.
Prior to coming to Morehouse School of Medicine, Dr. Jain served as Chief of Medical Oncology, CTCA, (Cancer Treatment Centers of America) in Newnan, GA, and prior to that, as Chairman of the Department of Hematology and Oncology at Tawam Hospital, in affiliation with Johns Hopkins in the United Arab Emirates. He has received several honors and awards. Dr. Jain served as the Vice President of the Biology Graduate Student Council Department of Biological Sciences at Kent State University, received the Joseph Silber Research Fellowship (American Cancer Society) Cleveland Clinic Foundation, Cleveland OH, Stephen Robinson Award for Excellence in Teaching in the Division of Hematology and Oncology, Beth Israel Deaconess Medical Center, Harvard Medical School and was nominated for Cancer Center of Excellence by the Committee for Arab Health Awards.
Dr. Jain has a strong interest in teaching, and has been involved in the education of a diverse audience, including nurses, graduate students, medical students, residents and fellows, as well as community physicians for the last 20 years. His research interests include immune therapies of cancer, chemoprevention of cancer, phase I and II therapeutic trials and translational science. He is exceedingly committed and involved in the community and very dedicated to providing optimal patient care.
| | |
| --- | --- |
| Title | Associate Professor of Medicine |
| Gender | Male |
| Languages | English, Hindi |
| Department | Medicine |
| Specialties | Hematology/ Oncology, Internal Medicine |
| Training | University of Rajasthan, Jaipur India |
| Residency | Miriam Hospital, Brown University, Providence RI |
| Hospital Affiliations | Grady Memorial Hospital |
| Accepting New Patients | Yes |
| Board Certifications | American Board of Internal Medicine |
| Honors | Nominated for Cancer Center of Excellence by the Committee for Arab Health Awards; Stephen Robinson Award for Excellence in Teaching, Division of Hematology and Oncology BethIsrael Deaconess Medical Center; Harvard Medical School Joseph Silber Research Fellowship (American Cancer Society); Cleveland Clinic Foundation, Cleveland OH |
| Special Interest | The treatment of patients with Gastrointestinal and thoracic malignances |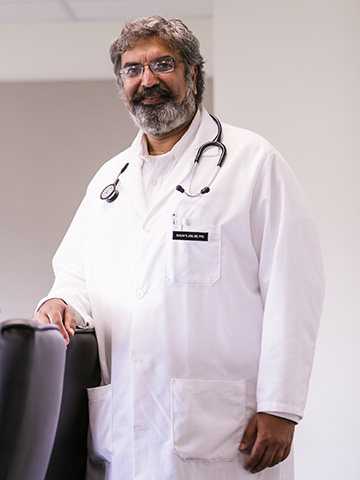 Primary Location
Grady Memorial Hospital
80 Jesse Hill Jr. Drive Southeast
Atlanta, Georgia 30303